Teardrop Shaped Banner Flags sind das ideale Werbemittel für Tankstellen und andere Outdoor-Unternehmen!
Sie sind preiswert und verleihen Ihrer normalen Bannerflagge mit ihrer lustigen und unterschiedlichen Form und Größe ein wenig Nachdruck.
Jedes Kit enthält eine Stofffahne, einen Pfahlsatz und eine Pfahlbasis für die einfache Installation im Freien.
Diese Flaggen haben einen Wenderadius von 360 Grad und sind so konzipiert, dass sie bei jedem Wind ihre unverwechselbare Tropfenform beibehalten.
Gib dem Teardrop-Banner einen Versuch, wenn du deine wilde Seite zeigen willst!
Feature
Come Standard mit benutzerdefinierten Flagge, Fiberglas / Aluminium-Composite-Stock-Set, Bodenpfahl und Nylon-Tragetasche.

Gedruckt in schöner CMYK-Farbe auf 100% Polyester-Gewebe mit einer schwarzen Flagge Ärmel.

Einseitig nur mit gespiegeltem Bild auf der Rückseite.

360 Grad Wenderadius

Größe: 2,8 m - 5,6 m
Spezifikation :
Item

11' Custom Teardrop Flag & Cross Base with Water Bag - Full Color Digital Printing

Size

2.8 m, 3 m, 3.4 m, 4 m, 4.5 m, 5 m, 5.5 m

Flag Material

110 g Knitted Fabric

satin fabric

Pocket Material

600 D oxford fabric

elastic fabric

knitted fabric

Pole Material

Fiberglass pole +aluminum pole;

full fiberglass pole(3 m flag, 4 m flag, 5 m flag)

Printing Types

Digital printing;

dye sublimation printing (this quality is better)

Printed sides of flag

Single or double sides

Base Choice

Metal across;aluminum across ;ABS spike ;Chrome-plated iron spike

Packing

Each set has individual carry fabric bag

MOQ

1 set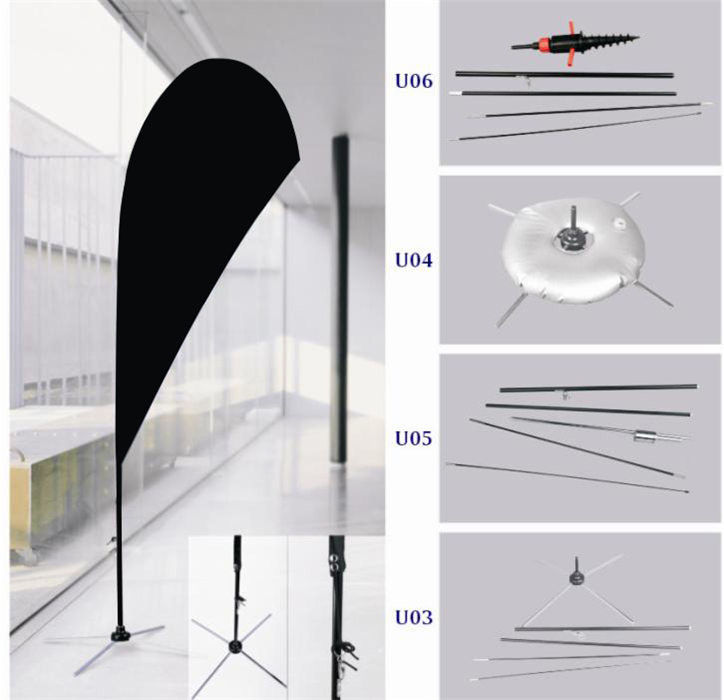 1. einfach zusammenzubauen, ohne irgendwelche Werkzeuge
2. leicht zu tragen, können Sie sie überall hin mitnehmen (normalerweise ist das GW pro Set 3-4 kg)
3. Sie können verschiedene Böden für unterschiedliche Boden- und Wetterbedingungen bestellen (für Spikesockel können Sie es in den weichen Boden einlegen, für den Kreuzfuß ist es für harten Boden, wenn der Wind stark ist, kaufen Sie schwere Böden mit Wasserbeutel )
4. doppelseitige gedruckte Flagge, um Ihre Marke, Service zu zeigen, einfach, das Auge des Publikums zu fangen
5.alle Zubehörteile sind in die Tragetasche gepackt, es ist einfach auf Lager, wenn Sie sie nicht brauchen.
6. Für nächste Ereignisse, müssen Sie nur die gedruckten Fahnen ohne Stange bestellen, und Basis und Tragetasche. Sehr flexibel.
7. Es ersetzt die
Roll Up Banner
sehr gut. Wenn es Qualitätsprobleme mit dem Roll-Up-Stand gibt, ist es schwierig für Sie zu lösen, wenn Sie nicht professionell sind. Aber
Feather Flags
passieren diese Fragen nie.
Das innere Paket unserer gedruckten Teardrop Flag Banner mit Kits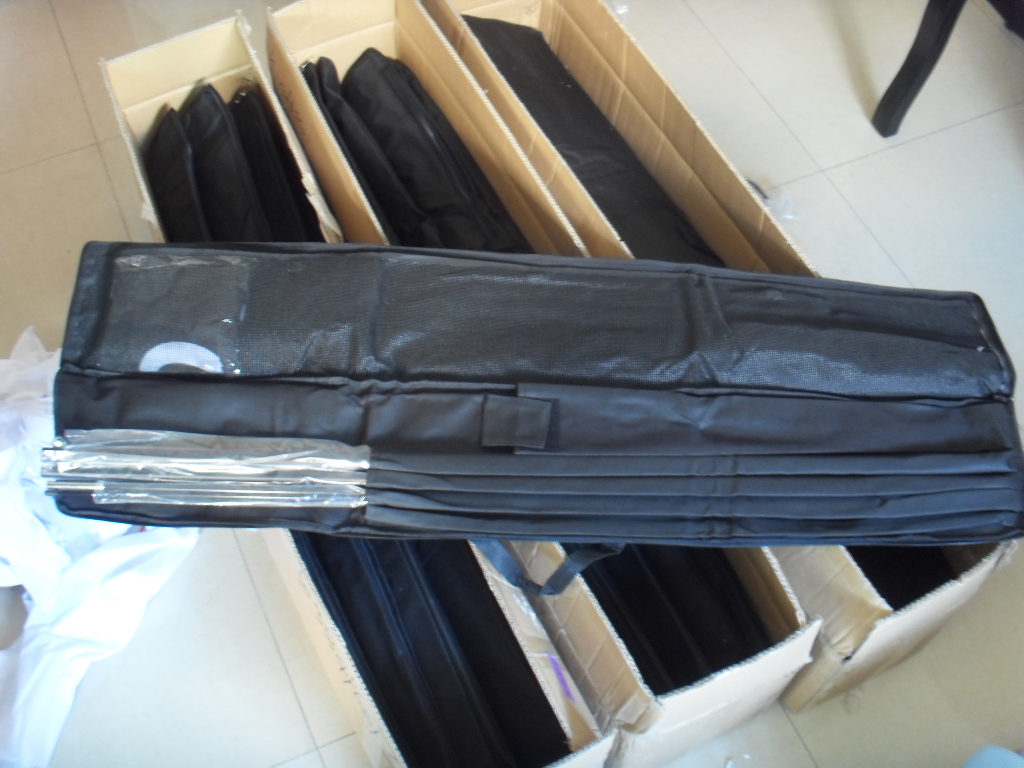 Die Details unserer Teardropflaggenpfosten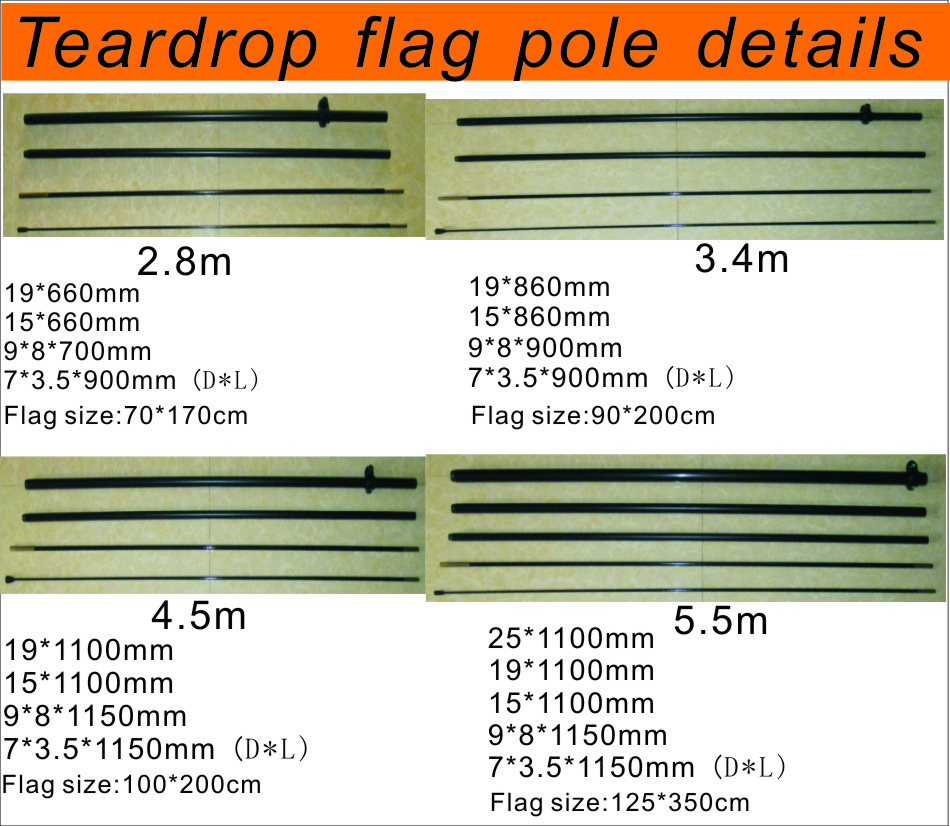 Basisanwendungshandbuch
Basistyp Anwendung
Cross-Füsse und Wasserbeutel In den meisten Situationen auf hartem Boden bietet der Wassersack zusätzliches Gewicht (12 kg), um die Flaggen im Freien stärker zu machen
Auto Basis Fitting um oder unter einem Reifen, ideal für Auto Meter, Motor - Shows oder Märkte
Kreisfuß Flache, harte Bodenfläche, schwere robuste Basisoption
Erdspieß Weicher Boden wie Gras, Erde und Sand ect
ABS Base In den Boden eintauchen.
Wandhalterung Montage an der Wand

Die Größenliste für unsere Teardrop Flag Banner